Approach to Reading and Writing
Literacy
Literacy - Reading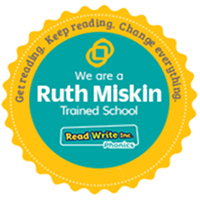 At Drapers' Brookside Infant School, we use the highly successful Read Write Inc. Phonics programme to teach our children to read accurately and fluently, with good comprehension. Children learn to form each letter, spell correctly and compose their ideas step-by-step. Our children do well in the Phonics Screening Check compared to their starting point and by Year 2, the majority are fluent readers with the best chance of success in KS1. The systematic approach ensures consistency for all children and high quality teaching is delivered by all practitioners.
We have been a "Get Reading. Keep Reading. Change Everything." school for 4 years now.
Created by Ruth Miskin and published by Oxford University Press, the programme consists of daily engaging sessions, rigorous assessment, tracking and one-to-one support. This ensures that progress is made by every child. Ruth Miskin was awarded an OBE for services to Education in 2011 and a CBE in 2019 for services to reading. She believes that in order for a school to be successful, every headteacher needs to adopt a consistent whole-school approach to teaching reading, writing and spelling. Read Write Inc. is ours!
As a Read Write Inc school, we are recognised for:
High standards in reading and writing

Expertly trained staff, trained by a Ruth Miskin Trainer

Adopting the latest programme updates, with regular visits from our Ruth Miskin Trainer

Supporting all children, to reach their full potential
Our school uses: 
The Read Write Inc programmes are carefully matched to the curriculum, giving our child the best chance of success in national assessments. The programmes ensure teachers, teaching assistants and parents feel confident with supporting all children to become fluent readers, confident speakers and willing writers.
Once the children have passed their phonics screening test (or achieve Literacy and Language level in RWI in Year 1) they complete daily guided reading sessions to further support reading development. Children who have completed the initial phonics programme focus on scanning text, summarising text, understanding vocabulary and recall of information to help them prepare for reading across the curriculum in Key Stage 2.
For more information and tutorials on how to support your child's development, click here. We understand that a love of reading is a fundamental aspect to facilitating achievement across the curriculum. Our dedicated school librarian works with children from Nursery to Year 2 to instil this enthusiasm in our children at the earliest opportunity in their school journey by running weekly library sessions involving a book change, story and singing. She also provides a wide range of quality texts in each classroom related to their half termly theme to enhance and engage the children when in the classroom.
At Drapers' Brookside, a child's reading journey begins with storytelling. Early readers are able to choose a library book to encourage shared reading at home, and choose from a range of texts that provide high quality illustrations to promote independent storytelling. This continues in class, where a variety of techniques are modelled to children to encourage the development of storytelling across the curriculum.
Once pupils are able to blend, they are presented with a selection of books which are organized into Book Bands to practise their reading skills at a level appropriate to their phonic stage. To consolidate the skills learnt at school, pupils are expected to read daily to an adult at home; staff use a reward system to encourage pupils to complete a daily read. A range of other tools are also used to encourage fluency in early reading, including materials specific to the Read, Write, Inc. programme and online platforms such as Lexia.
Read, Write, Inc. assessment materials are used to monitor progress in phonics and to highlight next steps for particular pupils or groups. When pupils have sufficient phonic knowledge to access reading books, 2Eskimos (Reading Assessment – 2Eskimos_) is used to ensure pupils are placed on an appropriate reading stage. Comprehension and fluency are also assessed, and the programme provides detailed assessment data, which includes next step targets.
---
Literacy - Writing
Writing skills are taught initially in Reception by encouraging children to develop their drawing skills; if a child can draw then they will be more confident and fluent when writing. The wider classroom environment is used to support the development of fine and gross motor skills, which are key factors in a child's ability to hold a pencil and form letters. Storytelling opportunities are offered through puppets, small world and roleplay to encourage the development of the ideas and structures needed for writing. Alongside this, Read Write Inc. teaches the functional skills for writing, including phonics, sentence structures and letter formation. Children are actively encouraged to mark-make and write through initiatives such as the 'Rainbow Challenge', where independent writing efforts are celebrated with the class.
Key Stage 1 continues to build on the foundations of EYFS through daily literacy and phonics lessons, which are often linked thematically to other areas of the curriculum. Staff use experiences and storytelling to enhance the children's writing to make it purposeful, understanding that imaginative capacity is based around the experiences of the child. Pupils are supported in developing accuracy and confidence as writers through guided writing sessions with adults, increasing their stamina to write longer and more complex texts as they move through the key stage. Additional opportunities to practise the skills developed in literacy lessons are offered across the curriculum.
Handwriting is taught from letter formation as part of the phonics programme to joined handwriting skills once formation is automatic. The expectation is that all pupils have fluent, neat and legible handwriting from Year 2. Pen Licences are awarded in Key Stage 1, if pupils can demonstrate consistent accuracy in joined fluent handwriting.
Spelling skills are taught from the earliest stages of Read Write Inc through to Year 2 through the phonics lessons.
---
Literacy – Spoken Language
Vocabulary development is a key issue within our student population, and therefore the acquisition of language plays a central role in daily teaching. In EYFS, new vocabulary is linked to stories or experiences the pupils are studying, with repeated opportunities to practice the newly acquired language throughout the day.
Developing pupils' vocabulary and spoken language skills is an important feature of our school. Our learning environment is designed to provide opportunities to talk and listen regularly. The child's level of spoken language will determine success in writing, so we encourage spoken language development to ensure the children have the necessary skills for the next stage of their education. In Reception, we develop 'Word Awareness' through Concept Cat – explicit teaching of concepts, Word Web – deep dive of a theme related word and Semantic Snake – making links between words and their connections to each other. We also provide Nuffield Early Literacy Intervention (NELI) for those who need extra support in improving communication and language skills across EYFS.
As the children journey through Key Stage 1 we continue to be 'Word Aware', ensuring we explore vocabulary through the explicit teaching of Achor words, Goldilocks words and Step On words, all based around the topics covered. Covering vocabulary in this way allows for strong progression as each year builds on previous learning. Our school ensures that pupils are given opportunities to develop confidence in their speaking, depth in their vocabulary and an awareness of audience when conversing and performing through opportunities across the curriculum.
Speech and Language Link intervention programmes support pupils with language difficulties and following screening for all pupils at the beginning of Reception are put into place swiftly by our Speech and Language teaching assistant and monitored regularly so that necessary support is established and enables accelerated progress.
Pupils are able to use language in imaginative ways from, role-play opportunities to drama activities through role-play and performance to an audience.
We enable to children build confidence in performing through open learning, storytelling, assemblies and productions.
Year Group
Term
Production
Nursery

Autumn

Autumn/ Spring/ Summer

Christmas – The Nativity

Songs

Reception

Autumn/Spring/ Summer

Autumn

Spring

Summer

Storytelling to parents

Christmas – The Nativity

Assembly

End of Year performance

Year 1

Autumn

Autumn/Spring/ Summer

Christmas – The Nativity

Assemblies/Storytelling

Year 2

Autumn

Autumn/Spring/ Summer

Christmas – The Nativity

Assemblies/Storytelling
---
Literacy - Spellings
Spelling is a key part of daily Read Write Inc. phonics lessons and can be used as a warm up for Literacy lessons especially if vocabulary is a focus. Through RWI we developed 'Red not Fred' words which contain the 100 high frequency words and the common acceptation words for Key Stage 1 spread out across the Book Bands to ensure they are learnt by the end of Key Stage 1. Click to learn more about high frequency words The National Curriculum in England: Spelling